Board School is our series of educational pieces created to help you maximize your appreciation and the longevity of your wood floors.
Stairs in a home present a range of exciting design possibilities, but with all the choices available come challenges. If the flooring at the top of the stairs is different than that at the bottom, which takes priority? How do you achieve an exact match to your existing floors?
Read on for solutions that can accommodate both budget-conscious and ambitious designs.
A Custom Stain
One of the most common and cost-effective ways to refinish stairs is to brew a stain match your new floor's colour and apply it on-site. As most stairs are wood construction, often oak, this method is widely used. However, it does come with limitations: The texture and finish of the floor usually cannot be matched and the colour can be tough to choose — it will be uniform where floors tends to have a range.
An important thing to keep in mind is that your results can vary greatly depending on the skill of your contractor, so be diligent in your hiring and always check portfolios. That caveat aside, the results of this method are usually very good and, for most stairs — especially enclosed, tread & riser stairs — custom stain is a reliable, scaleable solution.
Cladding
Here is a seamless solution that works especially well when the flooring is the same at the top and bottom of your stairs. Cladding is the process by which floor boards are made to size for installation on top of the existing stairs. Planks are created for the treads and riser, connected by a custom-made nosing, and fitted on-site by an installer.
Plan ahead: Schedule a site visit with the installer and order the material for your stairs at the same time as your floor. The result will be a perfect match.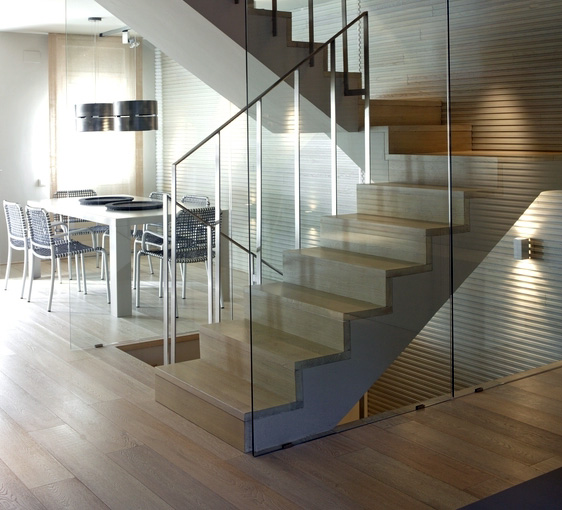 Build the Stairs
Sometimes building a custom step is the only way to achieve your design vision. Like cladding, this process takes planning — even more, in fact, as the stairs should be included in the design phase to determine how they should be produced. Relative Space can produce stairs finished on six sides in virtually any shape. Contact one of our experts to discuss the myriad possibilities.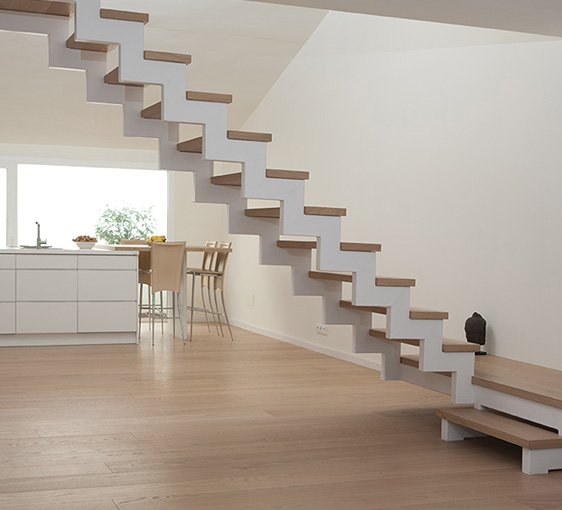 Decorative Touches
Once your stairs complete, you can consider final elements like carpet runners, inlays, or even how the spindles are attached. We can help with these, too!